There is soon to be a new update to CareForIT. This update will include changes to how your charges can be entered and a brand new holiday pay section.
Named Charge Rates
You will soon be able to add charging which can then be applied to multiple rate cards. These rate cards can then be amended in bulk should the rate change.
This new section will be found under the Settings menu: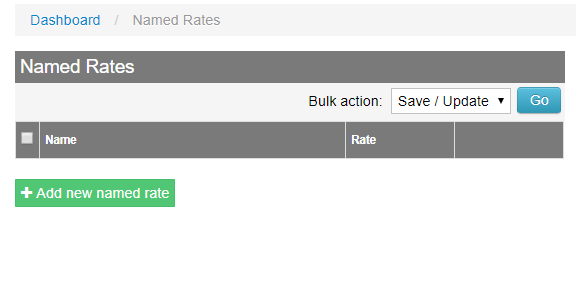 To add a rate, you click the green "Add new named rate" button.
In the example below, you can see two new named rates have been added, along with the current rate charged. You can add as many named rates as necessary.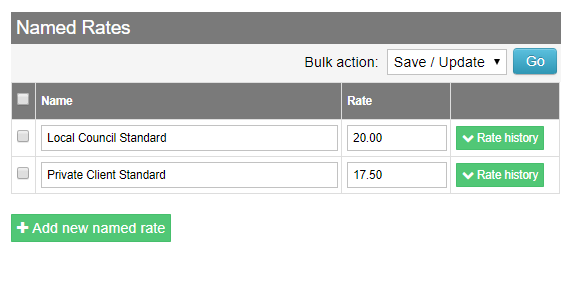 Once your rates have been added, please remember to Save/Update
In this section, you are also able to set changes to your rates. To do this, select the rate(s) you wish to update, and from the Bulk Action menu choose Uplift: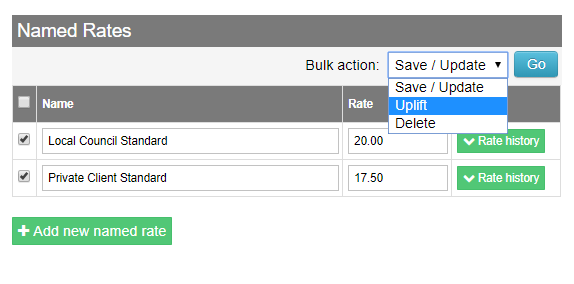 This will then present you with a pop up allowing you to amend the amounts: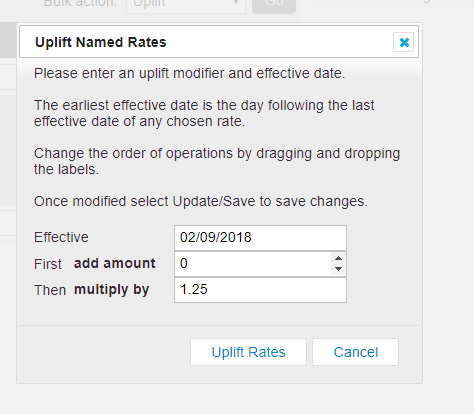 You need to choose an effective date for the changes, you can also amend the order of add amount and multiply by to suit the outcome you need. Simply drag and drop to change the order. Once you have entered the detail, click Uplift Rates
All changes can be seen under the Rate History button found alongside each entry: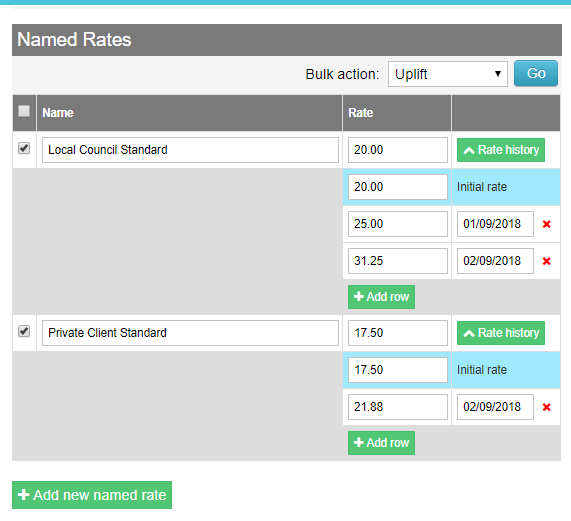 In the example above, the Local Council Standard rate was already set to increase on the 01/09 - the increase of 25% then is due to take place from 02/09
To apply these rates to your assignment types, you will need to locate the rate cards by clicking Assignment Types -> £ symbol to the right hand side of each assignment type. You will notice that the rate cards now look different:

To apply the rates, you can use the drop down boxes to show all named rates currently in the system.
If you want to apply the named charges in bulk, you will need to toggle the Bulk Action, you can then select multiple sections by clicking them individually. This highlights the line in blue. Choose the rate you wish to apply from the drop down, click Update and then Save

Holiday Pay
Within your staff and carer profiles there will be a new tab entitled Holiday. This is an exciting new feature which allows you to manage holiday for your staff both via accruing and fixed methods.
For more information on how the Holiday pay will work, please visit the Downloads section for an in depth guide.
Banded Charging
There will now be a new setting under your App Settings for Banded Charging. This allows you to choose your rounding policy

If you have any questions about this release, please contact the Support team via support@care-for-it.com