There will shortly be a new release to CareForIT. This new release is focused on travel types, improvements to payroll and more freedom to choose invoice and pay settings.
Travel Types
This new feature is found under the Settings menu:

You can add your own travel types choosing an icon and colour associated, and setting the pay rates for the different travel types. If you make any changes, you must ensure that these are saved.
You are also able to delete any travel types that you have added. Please note - the three main types cannot be removed
Within App Settings –> Mileage Settings, there is now a setting to choose your default travel type:

You can set the individual travel types within your staff profiles, within the Employment section:

Please note - if 'None' is selected, then the default travel type logged in your App Settings will be used for the staff member
Within the List View there is a new column showing for each booking the travel type – clicking the icon within the list view allows you to amend the travel type:

If you click into a booking – from the List, Grid or Wall - the travel type is displayed and you can amend from here if needed: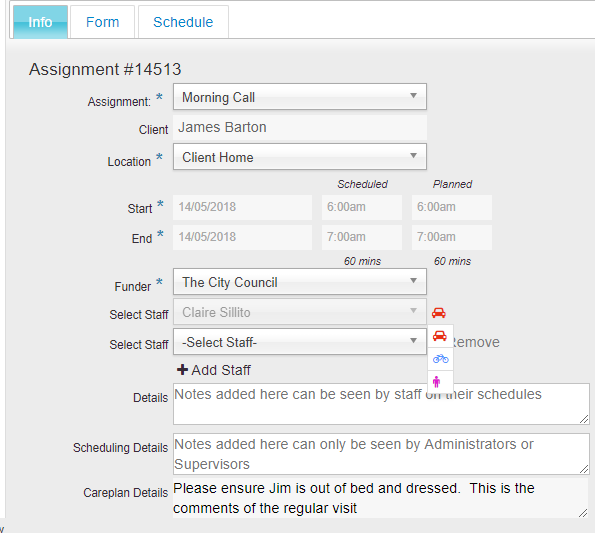 If a staff member is amended in a booking, then the travel type will change to display the correct travel type for the new staff member.
Payroll
Within the Payroll function, the Advanced Settings have been completely redesigned: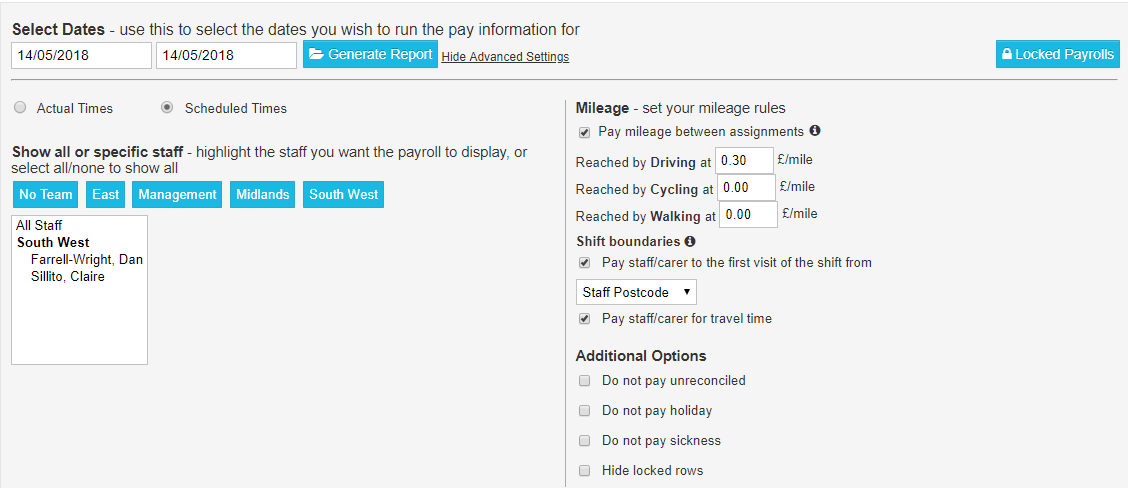 You can now run payroll based on a team – clicking a team name selects that team, clicking the name again deselects that team. You can also select multiple teams by clicking the required team names.
When you run payroll, if there are any issues with postcodes (e.g., new build properties) you will be informed: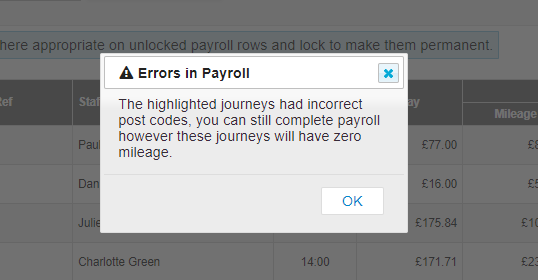 For any postcodes where an error has occurred, the whole line will be highlighted in red, with the problem postcode bolded:

On the payroll report, you will notice there are new columns, including the travel type and showing the actual and scheduled times:

In the example above, you will see the bottom visit has a figure in brackets within the Travel Pay column, this shows what the travel time is, but the travel time has been capped to the time between bookings.
You now also have the option to unlock your own payrolls. Click the Locked Payroll button, select the payrolls you wish to unlock using the tick boxes on the left-hand side and then click Unlock Payroll:

App Settings invoice and pay additions
There are also some new additions to your App Settings within the System Settings section:

Reconcile on Invoice – allows you to choose if calls are reconciled when an invoice is run
Edit Times on Invoiced Assignments – enabling this setting allows you to edit assignments after they have been invoiced. You can leave this on permanently or choose to enable editing for a set period of time
Staff Pay Capping – allows you to cap your pay at the scheduled times if you wish
If you have any questions about this new release, please contact the support team via support@care-for-it.com