The Technical team have been working hard on the latest release to CareForIT. Most additions made to the system come via User feedback, so if you have any suggestions for improvements to CareForIT, please contact the Support team on support@care-for-it.com
Full details of the new features and fixes are below:

INVOICING
You will now receive an alert should any of your invoices fail to generate. If this happens, you will be notified by a red warning triangle next to the invoice:
If you then click on the Invoice Number, you will be presented with a list of bookings which relate to the failed invoice:
You can then void the invoice, and re run for the period as detailed on the booking's list.
SCROLL BAR FOR DASHBOARD

Previously, if you had many items in your menus on the dashboard, the bottom of the menu could disappear. Now, a scroll bar has been added to allow you to view all detail:

TRIPLE HANDED ASSIGNMENTS

You are now able to add bookings with up to three Carers: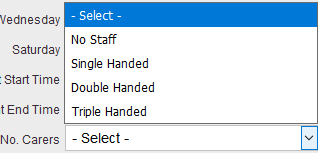 IMPROVEMENTS TO LIST VIEW

The List View has had some new additions.
There is now an option for you to choose how many visits you have displayed on the list view, by using the drop down in the 'Filter Selection' area. This creates different pages for your visits:

Regardless of how many pages your visits are divided into, when you run auto allocate or copy, all data for the date ranges initially selected will be used.
The statistics relating to work and care hours have also been improved to make them more accurate:
Scheduled Care Hours - this total is calculated via any item in your filtered date range which is classed as an assignment, booking or call
Scheduled Work Hours - this total is calculated via all types of assignment, booking or call, but does not include sickness, holiday, non chargeable cancellations or zero Carer calls.
Allocated Work Hours - this total is calculated via Scheduled Work Hours which have a Carer or Staff member assigned.
You can now also view more detailed data about your visits in the List View. You will notice that a graph icon now shows just below your 'Filter Selection':

Clicking this icon will bring up the following data: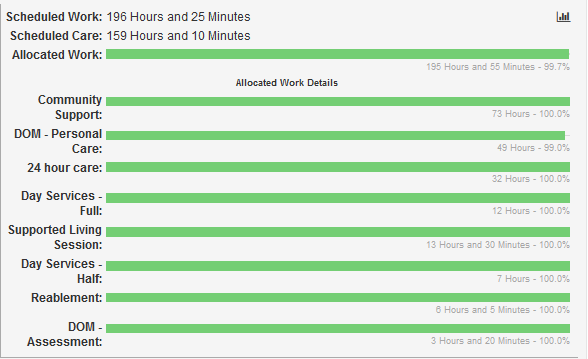 You will also be presented with three pie charts:

To close the data, click the graph icon again.
ZERO CARER ASSIGNMENTS ON THE GRID VIEW

Previously, any assignments that were for zero Staff ,would show up as pink on the Wall or Grid views, making it look as though they were unallocated. Now these assignments show as filled:

PLEASE NOTE - this does not relate to calls that have no staff as they are unallocated, just to those calls which have been set on the care plan to have zero staff.
APPLICATION LOG ADDITIONS

The Application Log has been improved to display more information. You can now find details of when bookings have had carers removed or replaced:

LOCATION BASED SHIFTS

When adding a new location based shift, you are now able to add an end date to the shift:

TRAINING, SKILL AND QUALIFICATION RECORDS
Where you have added Training,Skills or Qualifications with a 'Planned' date, you can now add the date the qualification was completed:

To add the date, click in the 'Qualified' box and once entered, you will need to save using the 'Bulk Action' update option.
The Staff and Carer training sections will now display at a glance expired items, or those which are in the reminder period as stated within your 'Settings':

When you add the newly gained Qualification, the record will be linked to previous expired item. Click the plus symbol on the left of the line to drop down all previous records:

CLIENT CONTRACTED HOURS
If you have entered a figure in the 'Weekly Hours' box within your Client's profile, and you subsequently add assignments to their Care Plan which exceed this figure, you will be alerted to this via a message:

AVAILABILITY TEMPLATES
You are now able to create bespoke templates for Staff and Carer availability. These are created under the 'Avail' tab, by clicking the 'Add Regular Availability' button:

You will then be presented with a pop up menu allowing you to create a template for availability which you can then save and copy over to other Carers and Staff:

Further detail on using the availability templates can be found in the CareForIT support centre via this link.
SCHEDULE DETAILS ON ASSIGNMENTS
When opening an Assignment, you can now see the other bookings through out the day for that Client. Clicking the '?' brings up the legend as detailed: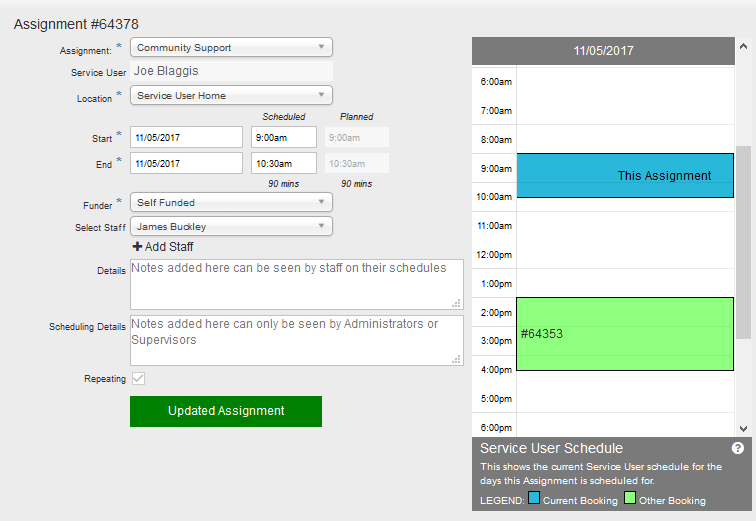 TIME BETWEEN BOOKINGS
Previously, the time between bookings option for paying Carer and Staff mileage was a pre defined list. You are now able to choose your own value in minutes. This is found via your 'App Settings' by scrolling down to the 'Mileage Settings' at the end of the page: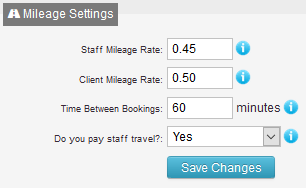 DAILY BACK UP

If you choose to receive the daily backup of visits, this will now contain the visit type.
REGULAR STAFF SELECTION ON THE BLUE COGS

When you are adding Staff and Carer names to the blue cogs on the Regular Visits section of the Care Plan, you are now able to select the individual by beginning to type their name: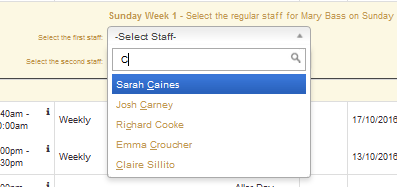 BUG FIXES:

The following bugs have been fixed as part of this release:

- Multiple lines created on some visits
- Staff removal from non conflicting assignments
- PHP errors on care plans
- Notes not saving on assignment details
If you have any questions about this release, please contact the Support Team on 01626 798890 or via support@care-for-it.com