There will shortly be a new release to CareForIT which will change the way that Clients are archived.
You will notice on the first tab of the Client profile there is a field entitled 'Service End Date' - if you enter a date in this box then the Client will be automatically archived on this date. There is also an expected end date, where you can enter the date you expect the care to finish but this will not automatically cause the Client to be archived on that date.

Last activity for a Client is classed as when care was last delivered
If you attempt to archive a Client from the Client list Bulk Action, and the Client has an expected end date which conflicts with your archiving, you will be presented with the following message: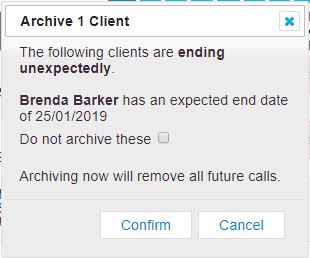 The changes to archiving will ensure that all calls for the Client are end dated on the correct date. This rectifies an issue where calls were still showing after an archive date, and also fixes a bug where the end date was overwritten with the date the profile was archived.
The release will also contain the following:
- You can future start clients - they will automatically be moved from referred to active on their start date.
- You can make clients referred again if you remove the start and discontinue date an active client will become referred.
- You can defer clients to start in the future - moving a start date into the future for an already active client will make them deferred with the same future activation behaviour.
- If you bulk activate clients and they have future start dates - you can choose to force make them active immediately (this will overwrite the start date with today) or leave them out of the bulk operation.
- Future starts are now indicated on the all clients list.
If you have any questions about this release, please contact the Support Team via support@care-for-it.com