In time for the busy festive season, we have just released an exciting new addition to your CareForIT site - the ability to create your own special charge and pay days.
The 'Special Days' tab is found under the 'Settings' menu: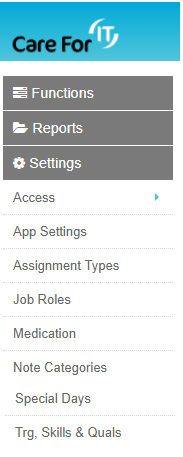 From here, you can then add the Special Days which you wish to pay and charge for.
To add a new special day, click the green 'Add New Special Day' button:

You will then need to add step by step, the details for your day:

Enter the name of your day, the day,month and year it applies to - please note if you wanted to create a Special Day for Christmas day, you can omit the year and just enter 25 12. You will then need to choose the Pay and Charge cases which relate to your special day. You can even create a Special Day to fall on the same day of the month, just by only adding a figure in the Day box.
If the Pay or Charge rate is to be different to your existing pay and charge structure, you can add new cases in. Drop down the menu, and select 'New Case':

Name your case what you wish, and then repeat the same action for the Charge Case.
In the example below, we have created a new pay and charge case for Christmas day. To save your Special Day, you MUST use the Bulk Action menu, and select 'Save/Update' and click Go:

If this same rate applies to another day, you can click to add a new special day again, and add the details, applying the same pay and charge cases to this day. All your Custom Cases will be displayed to the right of your screen:

Once you have added the pay and charge cases to your special day, you will need to update your pay and charge cards. Pay rates are updated under the 'Job Roles' tab:

'Charge Rates' are updated under 'Assignment Types':

If you have any questions about this new release, please contact the Support Team via support@care-for-it.com