You are now able to create different Availability templates to use across your Carers and Staff. Once an availability template is created and saved, you can access the template from any Carer or Staff Avail tab.
CREATING AVAILABILITY TEMPLATES
To create the Templates, choose the Avail tab from any Staff or Carer profile. You will see there is now a button stating 'Add Regular Availability':

Once clicked, you will be presented with the following pop up:

You create your availability templates the same way as you add normal availability. Just click the relevant times and days, and you can also use the three symbols to the right of each line. Once you are happy, click 'Save Template'. You will them be promted to give the template you have created a name. Enter your chosen name and click 'OK':

You will need to repeat the above for all different templates you wish to save in your CareForIT system, clicking the 'New Template' button each time you need to create a new template. The below example shows a template created based on a two week rota: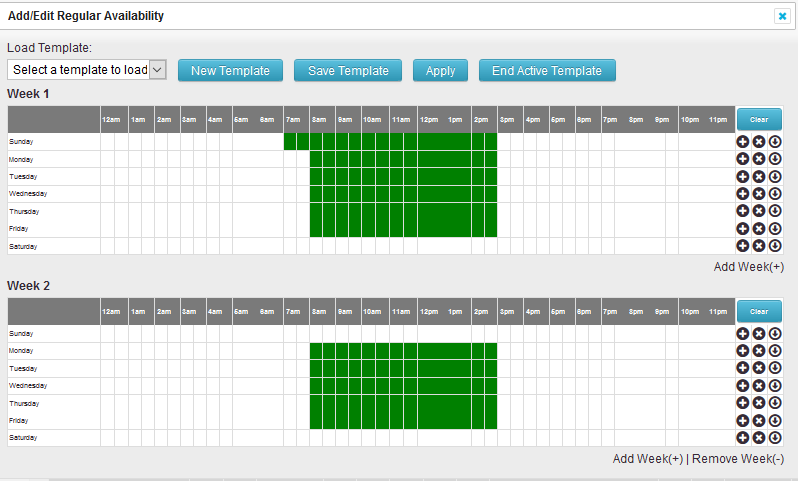 ALLOCATING AVAILABILITY TEMPLATES
To allocate an availability template to a Carer or Staff member, you will need to click the 'Add Regular Availability' button within their Avail tab. From the pop up, you will need to then choose a template from the 'Load Template' drop down:

Choose the template you require, and then click 'Apply'. You will then be prompted to choose the dates when the availability should apply from and, if necessary, to, and then click 'OK':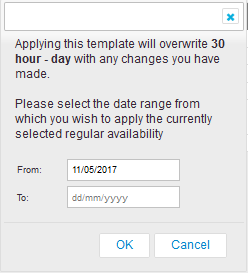 The Avail screen of the profile you are in will then update to reflect the changes you have made.
END DATING A TEMPLATE

Should you need to end the availability template and replace with a different one, you would need to click the 'Add Regular Availability' button. The current pattern witll be displayed in the pop up, and you will need to choose 'End Active Template' to allow an end date to be recorded. To save the changes, click 'OK':
If you have any questions regarding the availability templates, please contact the Support team on 01626 798890 or via support@care-for-it.com