There is a dedicated CareFor mobile App for iPhones. Your Carers can use the App to view their rota, and also to check in and out of calls. Importantly, the App allows your carers to check in and out of calls when offline, saving the times to be uploaded once they have reception or connect to WiFi. Please note - your Carers will need internet access to download their rota and any subsequent changes.
To use the App, your Carers will firstly need to be given access.
From the 'Functions' menu, select 'Carer' and then 'View Carers'. Look to the 'Access' column and ensure each Carer who will be accessing the system has 'Electronic Logging' showing. Then, update the entries using the 'Bulk Action Menu':

You need to ensure that all Carers have an email address on the system, as this will become their username. Once they all have their email address on CareForIT, you can send a password reset email to them using the same 'Bulk Action' menu. Choose 'Reset Selected Passwords' and click 'Go':

To download the App, your Carers will need to search the App Store on their phone for CareForIT Carer: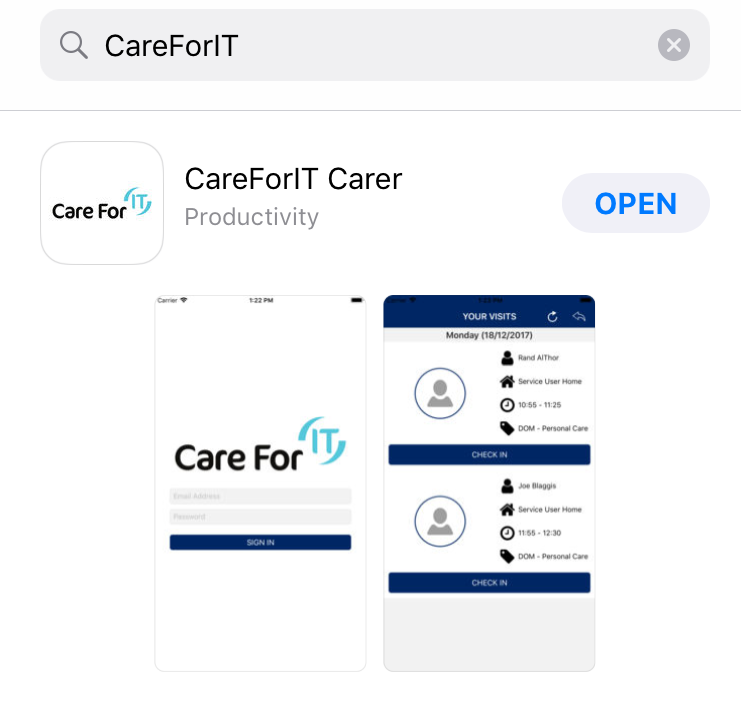 Once the App has been downloaded, your Carer can then enter their username and password. This will log them into today's date, where they can see their calls, and they can check in to the calls if within the allotted time frame. To view other days, simply swipe the screen right to move back or left to move forwards.
If Carers have their iPhone set to dark mode, the App will display in dark mode: