To use the MAR chart facility within CareForIT, you firstly need to set the medication for your Client within their Care Plan. In the 'Care Plan' tab of the Client's profile, scroll down to the 'Medication' section, and click the 'Add Medication' button: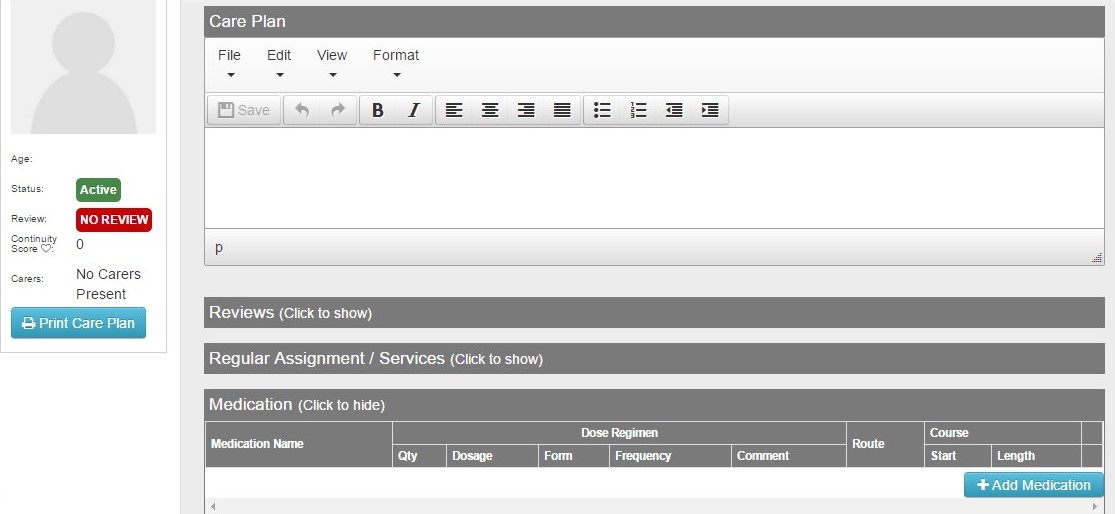 In the pop up which appears, you will need to add the medication details. In the 'Select Medication' box, if you start typing in the name of the medication, it will present a drop down list of all medications which match what you have typed: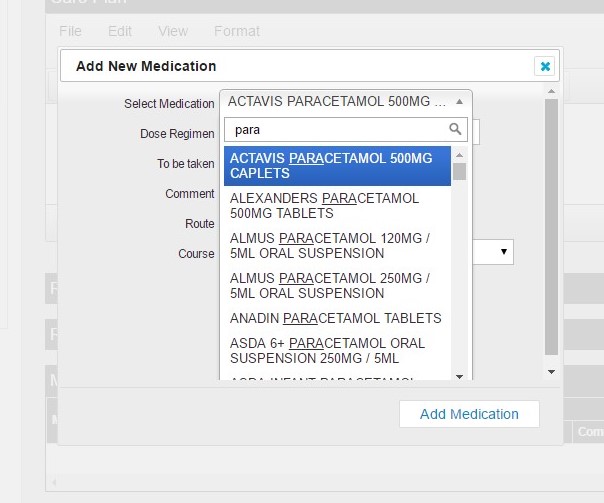 Please note - if you are searching for a medication and it is not appearing, check that:
- you are typing the name correctly
- the name you are entering is the name the medication is known by in the UK
Once you have located the medication, you will need to fill out the rest of the information. If the medication is for a set course, you can enter this in the 'Course' details. If the medication is one that your client takes on an ongoing basis, you will still need to enter a start day so that it appears in the system, but set the duration as 'Ongoing':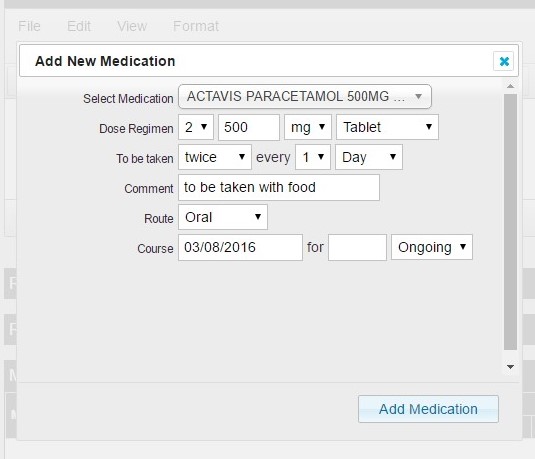 When you are happy with the medication details, click 'Add Medication' to save it to the Client's Care Plan. Should you need to edit the details you would click the pen symbol to the right of the line:

When a medication has been added to the Care Plan, it will then be logged on the MAR tab of the client's profile, both on the desktop and mobile sites.
We will look at the MAR chart on the desktop site first. You can change the week you wish to view the MAR chart for by clicking in the 'Week Commencing' box. You can also print out the MAR charts should you wish:

You can update the MAR chart by clicking into the box which corresponds with the day and time the medication was administered. This will then present you with a box allowing you to add further details: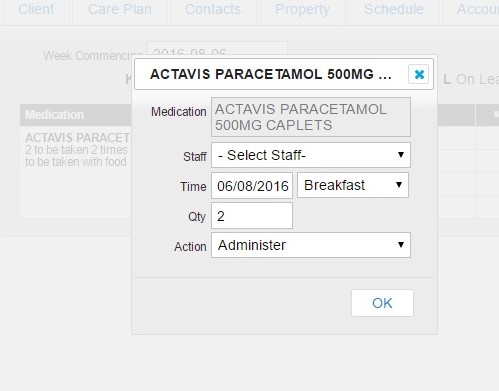 When you have clicked 'OK', the detail you added will be logged on the MAR chart:

If your Carers are updating the MAR chart on the mobile site they will need to access the 'Meds' tab. This will display the medication details, and allow the Carer to update the MAR chart remotely:
Once they click the 'Update' button, this will save the information they have entered. This will also update the 'MAR chart' tab within the Client's profile on the desktop version of CareForIT:
If you have any questions regarding the MAR chart within CareForIT, please do not hesitate to contact the Support Team on 01626 798890, or via support@care-for-it.com